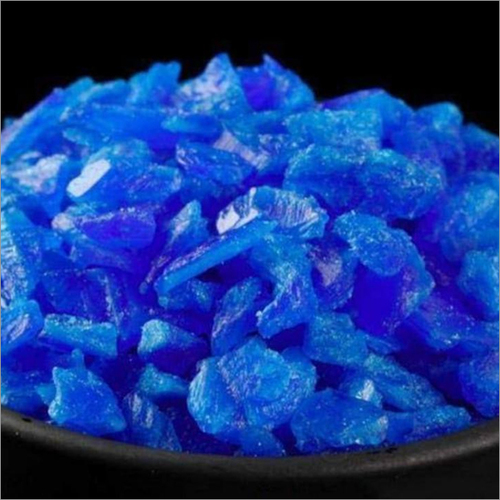 Product Description
Available in crystalline form, Copper Sulphate has wide applications in agricultural arena. Its PH value ranges between 3.7 to 4.5 at 50 g/l at 25 degree C temperature. Provided Copper Sulphate is blue in appearance and its density is 2.286 g/cm3. This substance has unique insect repellent effect. Due to its growth promoting attributes, it is used in pig feed. Copper based content in feeding supplement is effective in improving digestive function and in promoting growth. It can be stored for specific period. Standard of this chemical has been checked on the basis of its processing method, storage life, appearance, chemical attributes, possible toxin level etc.


Uses:
Both agricultural and non-agricultural settings can use copper sulfate to control undesired plants, algae, and fungi.
Anhydrous copper sulfate is used as a drying agent, an ingredient in fertilizers, and a food additive.
Textiles, leather, wood, ink, paint, and metal are a few examples of industries in which it is highly demanded.
Additionally, it is used for animal nutrition.
Get in touch with us